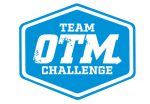 Out There Monthly is excited to launch our second season of the Team OTM Challenge, a 6-month program of trail and road runs, bike rides and races, triathlons and other multi-sport events that will challenge you to get in shape and try new races, fun runs and bike rides.
The Challenge: 6 Months, 6 Events
This program challenges you to complete at least one participating race each month from May through October. OTM is working with race directors of more than 45 events in 2017 to bring Team OTM Challenge participants a diverse selection of races and bike rides, both on dirt and on pavement. You'll receive generous registration discounts of up to 30% off each event (which means you can easily make back your program registration fee).
The Focus
PRs, podium finishes, and high mileage are a fun part of training and racing, but the Team OTM Challenge is about getting out there, having fun, and doing your best. We want to encourage and celebrate you for simply showing up. So try a new race in a new region with new friends, and you'll agree that participation is its own reward.
Participate as an Individual or 4-Person Team
Don't want to sign up by yourself? Then sign up on a 4-person team. Our team option allows you to gather some friends, co-workers, or family members and challenge each other as well as other teams in the program. You'll all get a price break on registration.
Kick-off Party
To start off the Team OTM Challenge season, we'll get together at No-Li to learn more about the program and participating races and events, meet other participants, pick up t-shirts and swag bags, and enjoy a free No-Li beer. Thank you to our Team OTM brewery sponsor No-Li Brewhouse!
What You Get
Registration discounts to dozens of races, fun runs, and bike rides
Opportunities to try many events in new places
A chance to challenge yourself to be more active
Team camaraderie
Free beer at several Team OTM gatherings and training runs
A gender-specific team tech shirt
Swag bag full of high-value prizes
Participating Events
You'll get access to ALL of these race discounts, so you can do as many as you like. (But we encourage you to challenge yourself to do at least six.) The 2017 list is being finalized now, which means we will be adding new races and events soon, but take a look below at what races, rides and other events are participating this year.
May
June
July
August
September
October
Age Requirements: We welcome participants of all ages to the Team OTM Challenge program. However, race directors determine the age requirements for their own events. Participants younger than 18 years old should check the age requirements for the specific races and events that interest them.
Registration
Registration information and link coming very soon!